Thinking of trying a new golf club?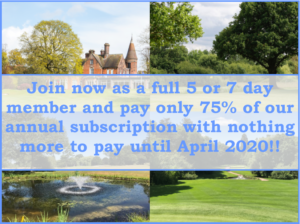 That's 18 months of golf for 25% less than you would normally pay for 12 months!! *
If there are 3 or more of you who join at the same time then, you will receive a further 10% off each!
This offer is limited and T&C's apply.
*BGGC charge a £50 bar levy on top of subscription fees and EGU fees.
* Payment has to be made upfront when joining as a member.
* The £50 bar levy and EGU fee will be charged in April 2019.
For more information call 01992 511258 (option 5) or info@bggc.org.uk