WE ARE PROUD TO BE SUPPORTING
ON COURSE FOUNDATION
Captains Charity 2023
Steve Dawson and Val Morrison are delighted to be supporting the On Course Foundation charity and can now announce they have raised £21,031.19 – Thank you to everyone for your  incredible generosity
As the UK's only golf specific military charity, we hope to use the game of golf as a vehicle for successful recovery with all our beneficiaries.
Why Golf?
Golf occupies a unique position as one of the few sports where participants of all skills and physical abilities can play together on a level playing field owing to the official handicap system. It offers injured Service personnel not only a sporting challenge, but for those leaving Service, an array of attractive career opportunities.
The benefits of playing golf offer a key part in physical rehabilitation, improving both balance and limb coordination. Camaraderie, competitive spirit and concentration are important too, supporting the psychological recovery of our beneficiaries and helping them find confidence within themselves.
Many Service personnel face the daunting challenge of finding employment after leaving the Services, something we hope to help them overcome.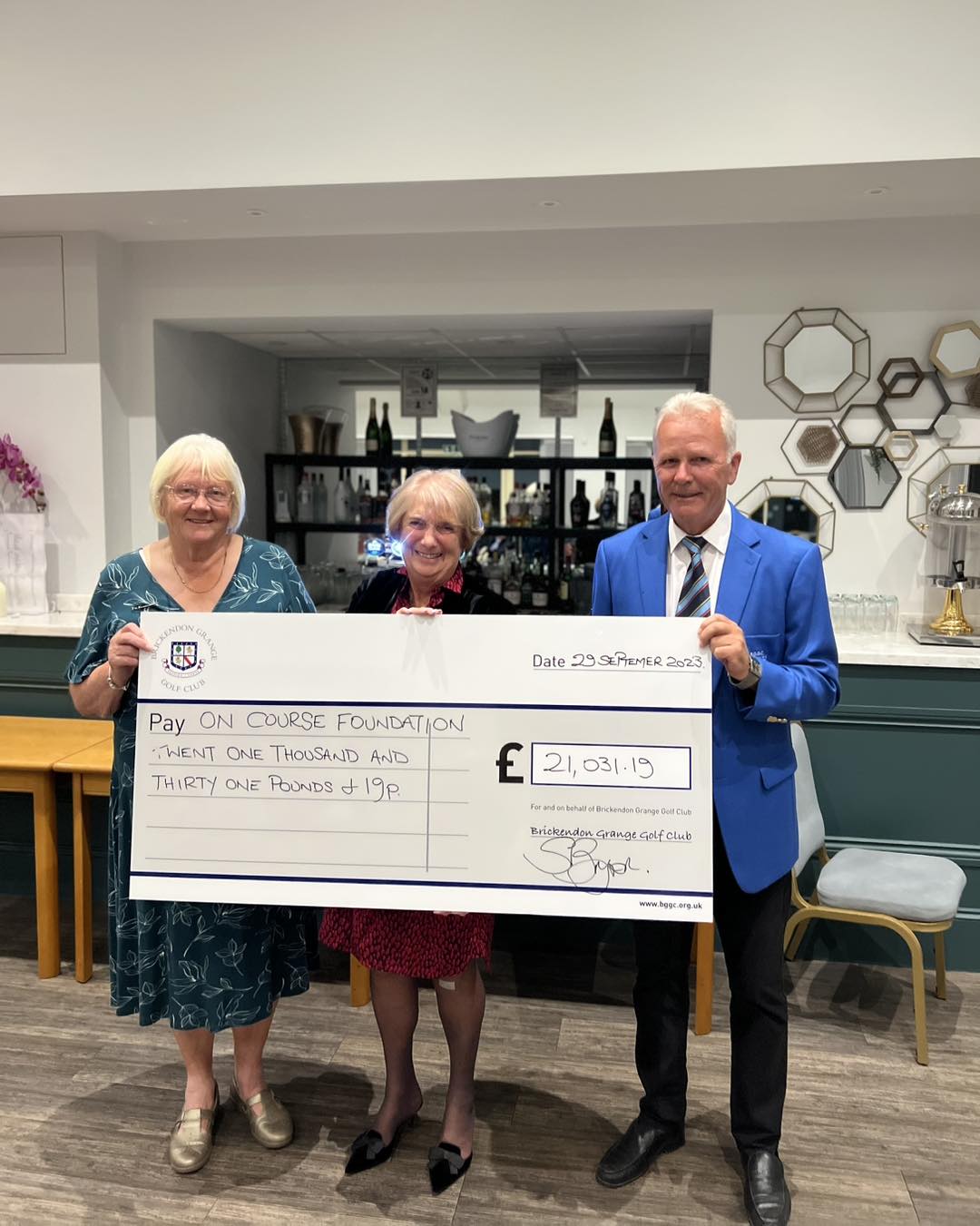 History of The On Course Foundation
Founded by John Simpson, MBE, On Course Foundation provides the perfect setting for competition, camaraderie and confidence.
The setting, individuals he met and stories he heard particularly resonated with John. He only has one good leg following childhood polio and empathised with those he spoke to, understanding their desire to regain a sense of camaraderie and play competitively in a welcoming, social environment. He heard many of their stories and concerns about returning to civilian life.

John began to realise that there were opportunities that golf – both in the game itself, and in the industry – could provide for the wounded, injured and sick Service Personnel and veterans, that other sports could not offer.

Many patients were enthused by the opportunity to participate, compete and work in such a sport. The handicap system offered them the opportunity to compete on a level playing field, as well as a reason to socialise with other Service personnel in similar positions to themselves.

An initial pilot golf skills scheme took place in September 2009, run in collaboration with the staff at Headley Court. The success of this event spurred the genesis of On Course Foundation. John's aim was to create a charity to offer injured Servicemen, women and veterans the opportunity to participate in golf on a level playing field with everyone else, either as a player or through employment in the golf industry. On Course Foundation was officially launched on 2 July 2010 at the Royal Household Golf Club at Windsor Castle.

Since then, the charity has grown, both in terms of the number of beneficiaries, and in how the Foundation can help them. It's clear that golf has the ability to aid recovery, both physically and mentally, and On Course Foundation provides the perfect setting for competition, camaraderie and confidence.
Our Golf Events: The 'transition pathway'
We deliver a programme of annual confidence building activities for wounded, injured and sick Service personnel and veterans. Since our inception in 2010 we have seen that our programme can have profound effect on the rehabilitation and recovery of these deserving individuals.
The 'Transition Pathway' is the process through which On Course Foundation helps injured Service personnel move from military service to civilian life and re-integrates veterans back into society. Although there is never a typical journey (due to issues such as injury complication, personal life issues and mental health related issues), we estimate that the average time to progress through the 'Transition Pathway' is two years.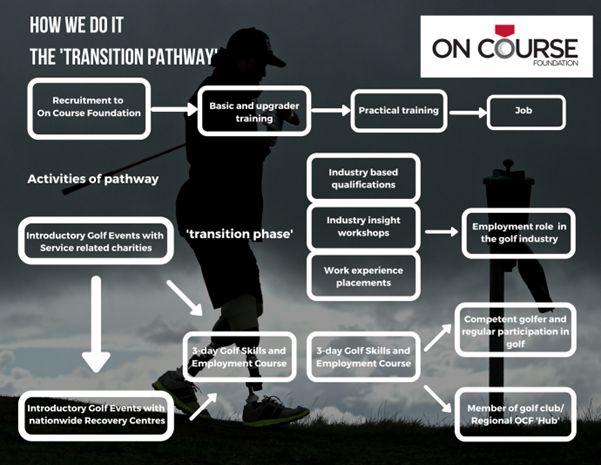 1/2-DAY INTRODUCTORY GOLF EVENT
These events are held in conjunction with the nationwide Personnel Recovery Units/Centre and external veterans organisations. They act as 'taster' to golf and introduce the opportunities available through continued involvement with On Course Foundation, including our employment programme. 
3-DAY GOLF SKILLS AND EMPLOYMENT COURSE
Our core residential course where beneficiaries receive comprehensive golf tuition from our experienced PGA coaches in a relaxed, comfortable environment – sharing the experience with like-minded individuals. Attendees will also receive career advice and exposure to the golf industry via presentation from individuals from the golf industry. They will also have the opportunity to discuss their 'transition pathway' with our experienced Head of Events and Employment.

COMPLETION OF A WORK EXPERIENCE PLACEMENT
Our Head of Employment and Events will work with individuals to try and source a short/medium-term work experience placement specific to their interests. This also includes voluntary roles with various organisations.
COMPLETION OF AN INDUSTRY-SPECIFIC QUALIFICATION
Assisting financially (via an OCF 'Scholarship Fund') with industry-based qualifications. Individuals add to their knowledge base and skillset in order to make themselves more employable to golf-based organisations. 
EMPLOYMENT INSIGHT WORKSHOPS WITH EXTERNAL GOLF ORGANISATIONS
Set up as 'a day in the life' at major golf organisations – focusing on roles that they may have been previously unaware of and hearing from current employees.

Other activities include:
7-day Warm Weather Training Events in both Menorca and Orlando
Service matches vs the Army, Navy and RAF Golf Associations
Regional Golf Skills Development Days, focusing on specific part of the game
Joining regional OCF 'hub' – a local community designed to support on-going participation and peer-to-peer support
Our programme is open to all levels of golfer, from beginners through to advanced. If you are interested in finding out more, please contact info@oncoursefoundation.com.