If you are interested in joining, please contact our General Manager at GeneralManager@bggc.org.uk or 01992 511258 option 5
Joining Fee can be paid over 2 years.
Direct Debit scheme not available in first year of membership
Brickendon Grange Golf Club is a friendly private members' club, with a very active and growing membership. We make it our priority for all our golfers and visitors to feel relaxed within a welcoming environment.
We have a full calendar of golf and social events throughout the year with competitions for men, women, seniors, juniors and mixed groups. Whether you are an avid golfer or just a beginner, we welcome golfers of all ages and abilities.
Speed of Play
To all Members & Visitors to Brickendon Grange Golf Club
The uncomfortable truth is that no one believes or is prepared to accept that they are a slow player – it is always someone else.  Please take personal responsibility!
For 3 consecutive Saturdays in December, (busiest time), our Course Marshal collected timing data and the resulting information has now been assessed with the following findings.
The average time for 3 ball games was 4hrs 5 mins with virtually all games finishing between 4hrs and 4hrs 10mins. Most of these games began between 8 and 8.30am thus having a clear course ahead of them.
Average time for 4 ball games was 4hrs 25mins with a variation between 4hrs 10mins and 4hrs 37mins (a game which let through two 2balls).
It is acknowledged that few groups started on 7th or 13th
Players knew they were being timed!
We would expect golf to be more time consuming with winter rules in place, a low dazzling sun and many leaves leading to more ball hunting!  However, it has been proved that 4hr 10min rounds ARE achievable in 4ball games even in winter, but that as soon as just one group takes 4 ½ hours they hold up the whole course and ALL players behind them.
15 minutes over a round is not too much to catch up, less than a minute per hole, so here are a few things that could make that difference.
Be ready to play when it's your turn. If the next player is not ready, then play your shot.
Mark your card when others are playing, not when it is your turn
When trollies are in use try to leave them at the point at which you leave the green for the next tee.
Try to talk and walk simultaneously and not when others are playing their shot!
You still only have three minutes to look for you ball – it has not changed.
Keep up with the group ahead, not just in front of the group behind.
If your group begin to lose ground on the group ahead, point this out to your playing partners and try to catch up and, if you cannot, call the group behind through.
Please be mindful that keeping up the pace of play is everyone's responsibility in fairness to all your fellow members and in particular the group immediately behind you.
Several members have pointed the finger at the hut being the main cause of slow play. You will have noticed that we have introduced "place your order when you reach the 7th tee", which has worked well. Since this has been introduced, there have been no 3 or 4 groups waiting on the 9th tee. Please continue to do this. Also, if you have ordered food and for some reason it is not ready, offer the next group to play through.
The golf course is not as busy now as it is in summer, and because of these contradictory variables a further period of evaluation will occur in May when hopefully winter rules will have ceased.
Apologies if these notes appear condescending to the many of you that adhere to them, but this reminder will hopefully have a positive effect overall.
If everyone buys into this, we can make a difference
Your ongoing support is needed and much appreciated.
Jeff Austin (Club Captain) & Caren Wilson (Lady Captain).
Dress Code
To maintain the standards within Brickendon Grange Golf Club, members and visitors are asked to observe a good standard of dress at all times
On the Golf Course
A smart standard of dress is expected, and whilst the wearing of tailored knee length shorts is permitted, they must be worn with either knee length socks, short socks, or trainer socks. Socks should be predominantly white, but can be the same colour as shoes
We ask men to wear golf shirts with a collar unless a golf shirt is specifically designed otherwise
Unless designed to be worn outside shorts, all shirts must be tucked in
Ladies can wear golf skirts, golf dresses, skorts, tailored shorts of reasonable length and cropped trousers
Ladies can wear sleeveless shirts with a collar, or shirts with a round neck or collar
The following items of dress are deemed unacceptable on the course:
Denim jeans
Leggings
Track suits and jogging suits
Combat style trousers/shorts
Crew or V-necked sweaters without recognised golf attire underneath
T-shirts and Vests
Football shirts
In addition:
Caps must be worn with the peak forward
Long trousers must not be tucked into socks unless wearing plus 2's/4's
Recognised golf shoes must be worn on the course.
In the Clubhouse
Unless otherwise stated, smart casual dress is permitted throughout the Clubhouse and on the patio area at all times except when attending an event that has a specific dress code.
Casual wear includes neat and clean golf wear.
The following items of dress are deemed unacceptable in the clubhouse:
Ripped denim
Track suits and jogging suits
Football shirts
Leggings
Combat style trousers
Vests
Shorts – unless tailored
Caps and headgear
Waterproof or wet clothing
No Golf shoes of any kind are permitted in the main parts of the Clubhouse with the exception of the Spike Bar, Locker rooms and the Pro's shop (where clean golf shoes may be worn).
Invited Guests
Members are reminded that the dress restrictions above also apply to member's guests both on the course and in the clubhouse. It is the member's responsibility to ensure that guests are appropriately attired at all times.
Any person not conforming to these standards will be asked to dress accordingly or to leave the course or clubhouse.
Brickendon Grange Golf Club is "Dog Friendly"
Dogs are allowed on the golf course and on the patio area whilst on a lead. We will be more than happy to supply your dog with some fresh water
Only assistance dogs are allowed in the clubhouse
For more information about membership, please contact:
Stephen M Bryan, General Manager at GeneralManager@bggc.org.uk                      or call 01992 511258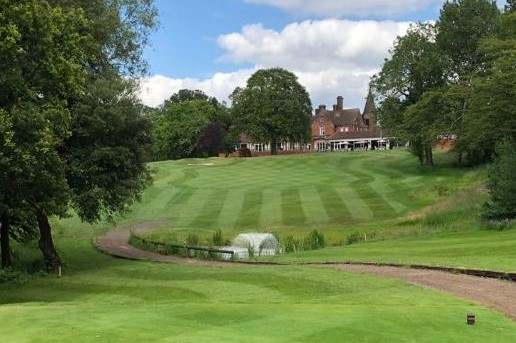 Additional costs apply including England/ Herts. Golf Union Fees, (£20.50), Bar Levy of £50 per year. Locker rental (optional), and Trolley storage (optional)
To Download a membership application form please Click here